Let the centuries-old Ayurvedic traditions bring understanding and balance to your life!
Your Dosha Experience begins with an analysis to discover your Doshas–your unique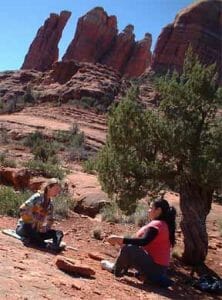 mixture of air, fire, water and earth–and how this blend can shape your life's gifts and challenges. Your guide will then connect you to the power of the Sedona energies and vortexes that meet your Dosha needs for life balance.
Your experience will be deepened through specific Dosha meditations and simple yoga techniques. You will leave your tour knowing tools that you can continue to apply to bring support and balance to your daily life.
"I would highly recommend your tours to everyone who comes to Sedona with an open heart, seeking a deeper walk with Spirit. An excellent experience." — Shiaryn Le
---
The Sedona Dosha Experience Rates
Total fee for up to four people per tour:
2 hours – $240.
We also offer a seated 1 hour Dosha Analysis – $110.
To book your Sedona Dosha Experience
or for more information, call us at (928) 282-0993
---
"Thanks so much for spending time with me. I have been using the techniques you taught me and they are really helping."– Marie from the Chopra Retreat
More About Sedona Dosha Experiences
The Ayurvedic approach to health and wellness dates back over 5,000 years in India.
In the Ayurvedic view, every person is born with aspects that mirror the natural elements of air, fire, water, and earth. These elements are expressed as three doshas–Vata (air/ether), Pitta (fire/water) and Kapha (earth/water)–and appear in every individual, in various proportions.
Each dosha brings gifts, such as Vata's creativity, Pitta's leadership, and Kapha's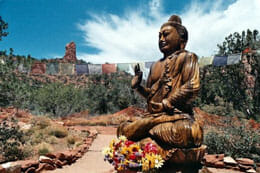 endurance. Daily life, in turn, brings challenges that can unbalance the doshas, such as when Vata becomes ungrounded and nervous, Pitta becomes inflamed and frustrated, and Kapha becomes depressed and stagnated. Appreciating the gifts and challenges that come with each element, the Ayurvedic tradition strives to bring balance to each individual's inherent doshas. All aspects of life, from career choices, exercise, relationships to nutrition, environment and meditation, play a role in this quest for balance.
Sedona offers an ideal setting to explore the gifts and challenges of your doshas combination. Sedona's beautiful red rocks hold places naturally tuned to calm, ground, and bring you inward or to enliven, uplift, and bring you out into the world.
On your dosha experience, we will hone in on your unique mixture of air, fire, earth and water. We will explore where imbalance has appeared in your doshas, and will then spend time in the energy location that will begin the balancing process. While the natural energy gently brings balance, you will discover the power in your daily life to recognize imbalance, and to encourage balance in your life through simple incorporation of yoga, meditation, nutrition, and simple daily rituals. The self-discovery and understanding available through this experience can truly change your life.
---
To book your Sedona Red Rock Dosha Experience or for more information, call us at (928) 282-0993.
---
Simon & Baker Luxury Travel Review
Sedona Dosha Experience Promoted Self Awareness
We met Patricia Fonseca, a dosha instructor with a bright smile and a friendly demeanor, at the lobby of our hotel late one afternoon during a visit to the town of Sedona, Arizona for a late afternoon Dosha Tour (it proved to be more of an exploration). We were intrigued by the general idea of doshas, although we knew little about the details. Since the town is well known for its vortexes (energy centers) and appeal to adepts of the spiritual arts, discovering our dosha type seemed appropriate. Doshas are Ayurveda mind and personality profiles; Ayurveda is the Indian concept of living in harmony with nature. Read more…
---