Sedona is one of the most powerful, beautiful, mystical, uplifting and sacred places on Earth.
Is the "Spirit of Sedona" calling you?
Sedona Vortex Retreats are awesome and transformational, designed to optimize your Sedona experience. Our retreats are unique in that we work in harmony with the Sedona vortex energies and many of our sessions take place on the Sedona vortexes.  This is an experience you will find nowhere else!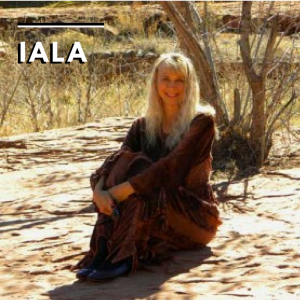 My name is Iala and I have created all of these wonderful retreats with you in mind.  We will make sure that everything is planned for you so you can relax and be assured that you are in caring, loving hands. We'll help you choose the perfect retreat and sessions for you and we'll be glad to help you with hotel and restaurant recommendations and Sedona information.
Sedona is my heart's home.  I love to share her beauty and grace with others.  I first visited Sedona in the 80's and I found myself returning again and again to renew, recharge and revive my Spirit.  Then one day in 2001 a shaman deep in the Amazon told me to come here and miracles would happen.  I have been here ever since.
I realize that life is very fast and people have enormously busy lives. You may only have a few days to visit Sedona.  That is why I conceived Sedona Vortex Retreats.  Each retreat will maximize and accelerate your Sedona experience.  I want to make sure that you get what you came for and that shift does happen in your life.  Sedona is renowned for her powers of transformation.  I want to make sure that you benefit from her magnificence.
"We are spiritual people who know what the vortex energy can provide and we wanted to experience them consciously and not just go there to hike and Akal could not have been a more magical and special guide to create that spiritual and conscious space for us all to have deep and meaningful experiences on the rocks.

He intuitively chose the vortex locations that would be best for my family and their needs, his shamanic and historic knowledge enhanced our day so much. His gentle and heartfelt guidance provided just the right amount of coaching to really open our hearts and make change that we wanted to make while there.

He was equally adept at teaching our 9 year old son and keeping him safe and engaged so that he had a great time and learned so much as well.

Akal took us to some of his favorite, secret locations that were a real gift and we ended with a moving ceremony on the medicine wheel with Akal's drumming and chanting that brought a very magical and powerful energy to the experience. He is an extraordinary sound healer and offered some chants to deepen the energy on one of the vortex that moved our physical energy as well as our emotional energy. He's a true healer." — Lisa G.
Akal is a veritable library of ancient knowledge and esoteric information. He is a wonderful shamanic guide, teacher, counselor and Sound Healer.  Each experience with him is a sacred event. His guided meditations at the vortex sites have been called profound and transformational. His Sound Healings will transport you to a higher plane.
Akal has studied with shamans around the world–the Cree Elders in Canada, the Curanderos in Costa Rica, the Ayahuasqueros in Peru and many multi-dimensional Wisdom Keepers in Sedona. He was a student of Osho and studied White Tantra and Kundalini Yoga with Yogi Bhajan. His studies have included humanistic psychology, Kabbalah, Keys of Enoch, alchemy, the Mayan Calendar, Sufism and various other spiritual, mystical and metaphysical teachings. This makes his sharing very diverse, unique and expansive.
Akal is our "go to man" for all things spiritual and Sedona. He has been exploring the trails and back country of Sedona for many years and always knows great places to visit during your retreat. He leads vortex tours, chakra tours, Medicine Wheel tours, meditations, special ceremonies, spiritual counseling, aura clearing and chakra balancing, soul retrievals, Meet Your Inner Healer, Sound Healings,  and so much more.