The Sedona Medicine Wheel Experience
---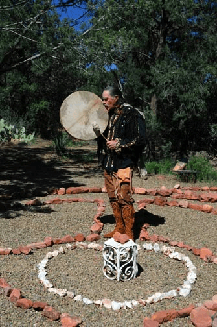 The Sedona Medicine Wheel Experience is very sacred since you'll visit a selection of awesome medicine wheels.
The experience includes Medicine Teachings and you'll learn about animal guides and their meaning in your life, including local Medicines like the Roadrunner, the Raven, the Snake and the Phoenix.
Sedona Medicine Wheel
There will be sacred drumming and songs, smudging and aura clearing, Calling in the directions and a ceremony to celebrate you and this time in your life. You'll learn so much about creating Ceremony in your life. This is a wonderful experience for all ages.
This is a powerful, personal instructional activity.
"My mother and I had the most amazing experience touring the different vortexes and medicine wheels. Our tour guide was awesome and very knowledgeable of the Native American traditions."
–Denise G

"I just got married last Saturday and the following morning my mom, daughter and I took a medicine wheel tour with our guide Patricia. She picked us up from our hotel and off we went. We all connected and enjoyed our time more than we ever imagined!!! We will be going back someday!!!!!!"
Sedona Medicine Wheel Experience
The Medicine Wheel is the cathedral of the Southwest. It's a sun dial and it marks the seasons and the movements of the sun. It also marks the directions and the elements. In fact, it's a rock teaching guide. As you walk the wheel, you walk the day, the year, a lifetime. There are many secrets hidden in the wheel. Join us and learn a few. A Sedona medicine wheel initiation is a powerful experience.
Ah ho! Step into a medicine wheel today and experience a timeless and transformational Medicine Wheel Ceremony with our shamanic guides.
All of our guides love leading this tour.
---
"Life changing! Akal is truly gifted … and he tailored the rest of day around my struggle and helping me find the answer that was right before my eyes, but blind to me. He also engaged my husband in his own language, linking the three of us together in a higher way. He offered a shamanic ceremony to me which was incredibly healing. I owe him and Sedona Red Rock Tours more than a simple thank you."
— Brenda Erickson
3 hrs – $600 (for one)  $300 per person extra
---