Our Sedona Couples Retreat is an opportunity for you and your beloved to reconnect in a deeply loving way in a powerful, uplifting and inspiring environment. The Sedona vortex energy intensifies everything–and it will intensify your love and renew your connection and commitment to each other. The Sedona Couples Retreat is private and is available year round.
My wife and I came here on a spiritual quest and we found it with you. It was everything we were looking for–the respect for the vortex and the planet and God. Thank you from our hearts. " –JM Lancaster, CA
---
The Sedona Couples Retreat Includes:
A Vortex Experience and Couple's Counseling
Learn all about the energies of the vortexes, how they will be affecting you during your stay, and how to harness their energies for growth and clarity in your life. Set strong intentions for your own and your relationship's growth and spiritual expansion. Our shamanic guide will counsel you on ways to clear the past and welcome the future with an open heart and big love.
Couple's Chakra Experience

You will experience the beauty and splendor of one of Sedona's most incredible hikes and a ceremony to cleanse, clear, energize and activate each one of your chakras. You'll learn about each of your chakras and how to keep them clear and activated in your daily life. And you will have your chakras atuned and aligned to each other.
Couple's Spiritual Counseling 
It's time to look at your life from a spiritual perspective. What's really important and why are you here? Get a whole new take on life and return to your world with a great attitude. It's time to reflect on your relationship from a spiritual perspective.
You will complete your Retreat with:
Completion Counseling and Ceremony Session

Time now to integrate what you have learned together. You will celebrate the growth you have experienced, the clarity you have gained and the insights into each others' hearts and minds.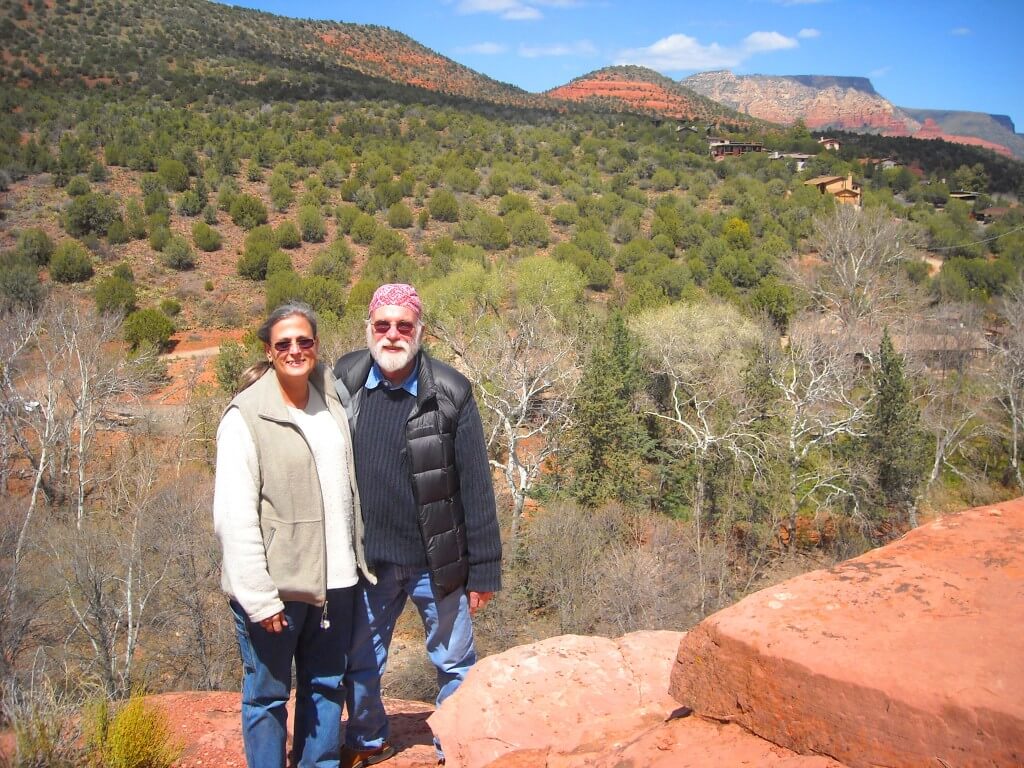 ---
"A week ago we met Akal and he changed our lives forever. Thank you for coming into our lives. Thank you. Thank you. Thank you!" — Lindsay & Randy, California
---
The Sedona Couples Retreat is 8 hours total
$2,400. per couple
(Accommodations and meals not included. We can make recommendations and assist with booking lodging if you like.)
My fiance and I came out for a couples retreat the first part of October. I would have to say that our expectations were not only met, but Iala and Akal far exceeded them! Iala had organized our time and put together a personalized schedule that was specific to our needs as a couple. Akal was very intuitive and brought so much insight to both of us. He helped up to expand our energy to let go of many things that were not serving us and open our hearts to allow each other to step into each others space to be great! They know all the special little secrets that Sedona has to offer and they are happy to share them with their clients. We appreciate everything they did to make this journey a very special one! We are anxious to come back to experience different services and discover new areas of Sedona. –Diana Daly
---
A Very Special Touch You May Want to Add
You might also like to add a very special experience to your Sedona Couple's Retreat. We suggest:
A Vow Renewal or Commitment to Your Life Together Ceremony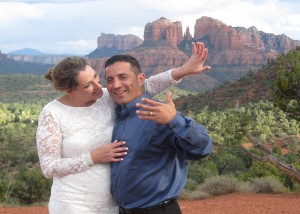 Why not add a vow renewal or commitment ceremony to celebrate all that you have learned about each other and and all the love you share between you? What a way to finish your Sedona couples retreat on a love high! We'll help you create a ceremony the reflects your love and experience and celebrates your strengths and gifts as a couple. A photographer is included to take 120+ photos (you'll receive a CD of photos), plus a certificate suitable for framing.
Best thing my husband and I ever did. We did the couples' retreat and a vow renewal. It was AMAZING. Can't wait to go back. -Traci Moreno
Add $779 to the retreat package:
Find out about our Sedona weddings and vow renewals.
---
Additional Session
You may also like to add one or more of the following sessions:
Sound Healing
Using a multitude of instruments from various traditions, drums, rattles, Tibetan bowls, bells, horns, conches, flutes and more, your guide will create a sound bath.
The sound cleanse will clear past patterns and old stuck beliefs and addictions.  It will cleanse and clear the aura and chakras.  Rebalance and regenerate the body, mind and spirit.
(2 hours $400 for one. $200 for each additional person)
You may also choose to add additional experiences to your retreat or any of our 20+ retreat sessions.
While we had been tourists for the first few days, I had came to Sedona in hopes of finding some healing of our souls in hopes of consequently healing our marriage. A few hours later Akal picked us up and took us toward a sacred place. While driving there, Akal gained an immediate rapport with us regarding our personal despair and interpersonal crisis, which resulted in my bursting into tears. In what appeared to be an instinctive hunch, he immediately gave us insight into our self-sabotaging interactions with which were trying to get each others' attention.

After we arrived, he described the origins of the tradition of this vortex being a sacred place of healing and spiritual transformation. He was able to discuss with both of us our mutual knowledge of the spiritual traditions of European, Native American, and recent New Age theories of the energies present at the vortex to which he took us, and helped us feel present to the healing energy. He was able to talk us out of our excuses of non-enrollment in the experience and helped us feel the presence of the healing energy. He engaged in some healing meditation and performed a consequent shamanic ceremony. I am not yet able to adequately describe the experience I felt during that process.

In winding down from the experience, we transitioned to the Buddhist Stupa in which we discussed matters of the spirit, healing, the perspectives of the Eastern and Western religious traditions. I felt much more at peace within, the tightness in my chest, my anxious state seemed much subsided.

That night, still trying to wrap around what had happened out there on the red rocks, we looked him up and discovered within his biography that he had studied with shamans and had had experience in shamanic healing. That he did not feel the need to toot his own horn, so to speak, and let the experience speak for itself, seemed to be part of the cosmic gift I feel that I have received from his presence and guidance.  –Rock P., Oregon
---
The Sedona Couple's Retreat gives you and your beloved the time and space to connect deeply with one another while magnifying your love in the Sedona vortex energy. To gain more insight about what the Sedona Couple's Retreat

or any of our

Sedona retreats can do for you, email us at info@sedonadestinations.com