Our Sedona Sages Are Masters in Their Fields Who Will Truly Touch Your Life
---
Sedona is one of the most powerful, beautiful, mystical, uplifting and sacred places on Earth.

Is the Spirit of Sedona calling you?
Sedona Vortex Retreats are awesome and transformational, designed to optimize your Sedona experience. Our retreats are unique in that we work in harmony with the Sedona vortex energies to expand and amplify your journey. Many of our sessions take place on the Sedona vortexes.  This is an experience you will find nowhere else!
My name is Iala and I have created all of these wonderful retreats with you in mind.  Mine will be the voice you hear when you call.  I will make sure that everything is planned for you so you can relax and be assured that you are in caring, loving hands.  I will help you choose the perfect retreat and sessions for you.  I'll be glad to help you with hotel and restaurant recommendations and Sedona information.
Sedona is my heart's home.  I love to share her beauty and grace with others.  I first visited Sedona in the 80's.  I found myself returning again and again to renew, recharge and revive my Spirit.  Then one day in 2001 a shaman deep in the Amazon told me to come here and miracles would happen.  I have been here ever since.
I realize that life is very fast and people have enormously busy lives.  You may only have a few days to visit Sedona.  That is why I conceived Sedona Vortex Retreats.  Each retreat will maximize and accelerate your Sedona experience.  I want to make sure that you get what you came for and that shift does happen in your life.  Sedona is renowned for her powers of transformation.  I want to make sure that you benefit from her magnificence.
I have carefully gathered a group of amazing consultants, guides, body workers, healers, psychics and shamans.  These are the very best of Sedona.  I call them the Sedona Sages.  I believe in quality and they truly are all very open, informed, spiritual, experienced, wise and loving beings.  Sedona attracts masters and each of the Sedona Sages you will be spending time with are masters in their fields. It is an honor for me to share the Sedona Sages and their expertise with you.  I know they will each touch your life in a way that will uplift, transform and evolve your life and set you on a path of joy and wisdom.
---
Akal
Akal made our visit truly exceptional. Unforgettable!" — Jeff & Tara, OH
Akal is one of our Sedona shamanic guides. Akal has studied with shamans around the world–the Cree Elders in Canada, the Curanderos in Costa Rica, the Ayahuasqueros in Peru and many multi-dimensional Wisdom Keepers in Sedona. He was a student of Osho and studied White Tantra and Kundalini Yoga with Yogi Bhajan. His studies have included humanistic psychology, Kabbalah, Keys of Enoch, alchemy, the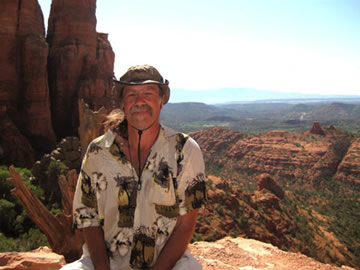 Mayan Calendar, Sufism and various other spiritual, mystical and metaphysical teachings. This makes his sharing very diverse, unique and expansive.
Akal is a veritable library of ancient knowlege and esoteric information. He is a wonderful guide and each tour with him is a sacred ceremony. His guided meditations at the vortex sites have been called profound and transformational. His drumming and chanting will transport you to a higher plane.
Akal has been exploring the trails and back country of Sedona for a long while and always knows great places to visit for our guided hikes of Sedona. Akal is our "go to man" for all things spiritual and Sedona. He leads vortex tours, chakra tours, Medicine Wheel tours, meditations, special ceremonies, spiritual counseling, aura clearing and chakra balancing, soul retrievals and so much more.
---

Bonnie
Bonnie shares the gift of how we can open and integrate our energies so we can lead balanced lives in harmony with nature and the Universal rhythm of life.
With her daughter, she is the co-director of the Center of Creativity and Balance. She teaches T'ai Chi and Qi Gong and is a certified Jin Shin Jyutsu practitioner and instructor. She is also a Reiki Master, an internationally exhibited artist and a published poet.
Bonnie leads powerful, shamanic vortex experiences, Medicine Wheel tours and ceremonies, chakra tours and hikes. She also does Reiki, Jin Shin Jyutsu, soul retrieval, past life regressions, meditations, drum journeys, sacred journaling, aura clearing and chakra balancing. Time spent with Bonnie is a great blessing.
Our Sedona Sage Bonnie was very knowledgeable. We enjoyed every minute of our time with her." –Tonya
---
Aurora
Aurora is like no other. She is pure Sedona. A native of Arizona, she has been living in Sedona for many decades. She is a wise woman, deeply spiritual and one of the world's true healers. She is a master of Jin Shin Jyutsu. She learned directly from a woman named Mary who brought this modality to the West. Jin Shin Jyutsu is a 4,000 year old healing system from Japan.
I have seen miracles happen on Aurora's table and I have felt the energy and benefited from it greatly in my own healing journey." –Iala 
---
Kazandrah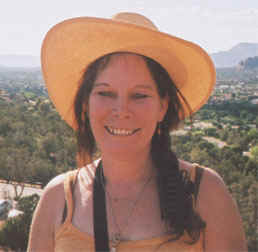 Our psychic, Kazandrah, brings over 30 years of experience in tarot, clairvoyance and the metaphysical healing arts to each reading. Clairvoyant and a physical medium from birth, she began in the early 70's to develop her natural gifts. She is an ordained minister, a teacher, healer and a guide for your spiritual growth who focuses on your soul path and ascension process.
The focus of a reading is to clarify your spiritual purpose and to balance your entire being by connecting to your soul guidance. In a reading, your gifts and strengths are highlighted. Kazandrah offers ways to clear blocks to your soul fulfillment and gain clarity about your guides, guardian angels, and life purpose.
---
Girija
Girija is a master of many bodywork and healing modalities. She practices Rebalancing Therapy (deep tissue massage with breath therapy), table Thai massage, Abhyanga (4 Hand or just her), visceral manipulation (inner organ massage), Shiatsu, Thai foot massage, hot stone massage, reflexology, maternity massage, Ayurvedic wraps, Shirodhara, massage for fibromyalgia. She is a certified Bach Flower Consultant and a Reiki Master. Her whole life has been about service and compassionate healing.
---