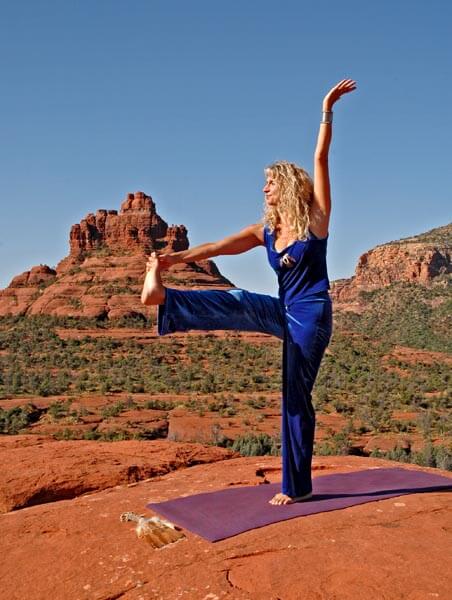 A Sedona yoga retreat is a wonderful way to reconnect with your body, mind and Spirit. The word yoga means yoke or union and, traditionally, yoga is the practice of joining the individual self with the divine Universal Spirit. This connection with the divine is enhanced by the powerful energy of the Sedona vortexes and the outstanding natural beauty found here. Yoga anywhere is wonderful–and yoga in Sedona can greatly magnify your experience. The ultimate Sedona yoga retreat experience, however, is when you feel your feet upon Mother Earth while reaching your arms into a wide expanse of sky, doing asanas and meditation out on the land, in vortex energy, and surrounded by nature's red rock glory. It's truly an experience not to be missed!
It's time to do something really good for yourself this year. A Sedona yoga retreat quenches your thirst for beauty, nature, self-empowerment, physical joy and connection with Spirit in one fell swoop. It's a chance to remove yourself from patterns of stagnation in your life and feel the thrill of life pulsing through your veins. It's a healthier, more joyful and life-affirming vacation alternative that will truly refresh and reinvigorate every aspect of your being.
Our Vortex Yoga Retreat at the vortexes is a wonderful growth experience for anyone–from beginning yoga student to the yogi or yogini with years of practice. That's because we tailor this Sedona yoga retreat to your level of expertise. The Spirit of Sedona with her mystical vortexes has a way of calling specific people to her in order to recharge and deepen your yoga practice and renew your Spirit. Answer the call and allow the vortex energy to strengthen your poses, relax your mind, enhance your meditation and awaken your Spirit.
---
The Sedona Vortex Yoga Retreat Includes:
A Vortex Yoga Hike
Our yogic guides will assist you in making a powerful and life enhancing connection with the vortexes. You will be led in yoga, ceremony, visualization and meditation. Let the beautiful red rocks speak to your heart. You will also learn new Southwestern asanas.
(2 hours)
Aura Clearing and Chakra Balancing Yoga Hike
Your guide will lead you through a Chakra Clearing Yoga Session to cleanse and balance each of your chakras. The aura and chakras reflect your life experience. The aura can become muddy and the chakras out of balance or even shut down from the stresses of daily life. This is a profound cleansing and activation. You will be renewed and re-energized in a powerful way. You will hike to the Seven Sacred Pools and take part in a Chakra Ceremony and Yoga Flow to activate each of your chakras.
(2 hours)
The gong has been used for thousands of years in many cultures as a tool for healing and enhancing meditation. The vibration of the many gongs used in a 'Gong Bath' will penetrate every cell and molecule of your body to bring you to a deep state of relaxation. The sound of the gongs will stimulate your glandular system and facilitate the removal of old emotional blocks. A Gong Meditation will unleash your inner joy and creativity and bring you to a deep state of Inner Peace and Harmony. (2 hours)
Pranayama and Meditation
Experience the joy of pranayama and a truly beautiful meditation on the red rocks of Sedona. You will learn meditation techniques and various breathing techniques for deepening your yogic practice and meditation.
(2 hours)
The Sedona Yoga Retreat is typically 2 to 2.5 days long.
 $990. (one person)

$1,350 ( 2 ppl)
$1,700 (3 ppl)
$2,060(4 ppl)
Plus 20% gratuity
(Accommodations and meals not included. We can make recommendations and assist with booking lodging if you like.)
---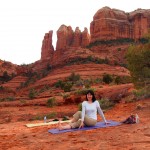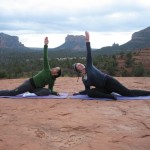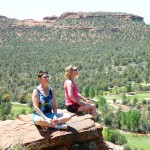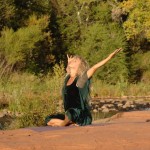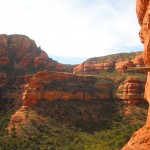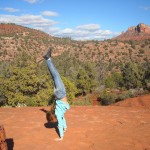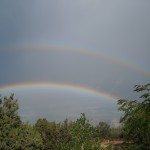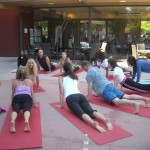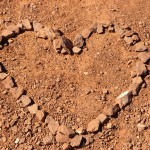 ---
I had [the experience of the] Sedona Vortex Yoga Retreat in Sedona. Simply awesome! I learned a lot from Patricia, including how to release my concern or fear, to get confidence. This experience is a big help for me in my daily life. I still think about Sedona and my tours with Sedona Red Rock Tours and appreciate to have given me precious awakening! Highly recommended 🙂 Yoshi
---
You may also like to add additional Sessions while you are here. We recommend:
Jin Shin Jyutsu
J in Shin is a non-invasive ancient healing art that brings balance to the body's energies. Your session will promote optimum health and well-being and facilitate your own profound healing capacity. Our practitioners Aurora and Bonnie are true masters of this modality.
(60 minutes)
Reiki
Reiki is a Japanese energy technique for stress reduction and relaxation that promotes healing. Deeply profound and moving, amazingly relaxing, healing and restorative, Reiki is used in many hospitals to enhance and speed healing and give comfort and pain relief.
(60 minutes)
Craniosacral Therapy
Deeply relaxing, regenerating and therapeutic. A gentle, noninvasive form of bodywork that addresses the bones of the head, spinal column and sacrum. The goal is to release compression in those areas which alleviates stress and pain.  Craniosacral therapy seeks to restore the natural position of the bones and can decrease  stress from chronic injuries as well as provide relief from migraine headaches, neck and back pain, temporomandibular joint disorder (the inflammation of the joint that connects the lower jaw to the skull) and more.
(60 and 90 minute sessions – $120. & $180.    + 20% gratuity added.  plus tax  Couple's Massage is 90 minute minimum  $180 plus tax and 20% gratuity)
You may also choose to add additional experiences to your retreat or any of our 20+ retreat sessions.
---
The Vortex Yoga Retreat is an exhilarating way to experience Sedona's vortex energy and pristine natural beauty while giving yourself a powerful boost and deepening your yoga practice in a way you've never before experienced. To gain more insight about what the Sedona Yoga Retreat

or any of our

Sedona retreats can do for you, call us at (928) 282-0993.